Y-90 SIRT Case Study
Spring 2018 —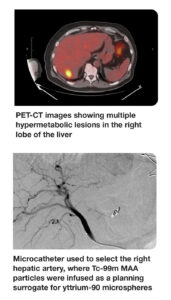 Overview
Originally indicated for inoperable liver cancer, Selective Internal Radiation Therapy (SIRT) with yttrium-90 (Y-90) microspheres is an appropriate option in chemotherapy resistant patients whose colorectal disease has spread to the liver. Synergy radiologists are now performing this advanced, minimally invasive procedure at several Memorial Hermann hospitals with good results. We present this recent case, which is performed by a Synergy radiologist and involves a multidisciplinary team approach to treatment.
Case History
A 70-year-old male patient was initially seen for rectal bleeding. He lives with his wife, has several children and leads an active lifestyle with no history of alcohol, smoking or drug use. He had previously undergone mitral valve repair surgery. Subsequent CT imaging of the abdomen and pelvis showed a large cancerous growth in the ileocecal region between the large and small intestine. The patient underwent urgent surgery for removal of the right-sided portion of the colon, including removal of the cancerous mass. The cancer was metastatic, having spread to 13 lymph nodes and the liver.
PET CT imaging showed multiple lesions in the right liver; no disease was seen in the left lobe. The patient then underwent port placement and four cycles of chemotherapy with FOLFOX and bevacizumab. Despite chemotherapy, the patient developed progression of disease with rising CEA levels. The patient was then referred to Synergy for SIRT Y-90 radioembolization treatment of the cancer that had spread to his liver.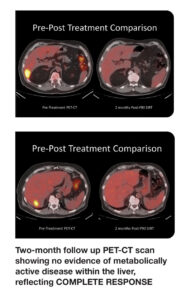 Clinical Summary
The post-treatment clinical course proceeded normally, and the patient was able to complete hepatic arterial anatomy mapping and intra-arterial infusion treatment phases on an outpatient basis. Mild fatigue and nausea was experienced for several days after treatment but was adequately controlled with oral medications. No symptoms of cholecystitis (gall bladder inflammation) despite the gallbladder being within treatment zone. The patient was able to return to his active lifestyle within five days of treatment. A two-month follow up PET-CT showed no evidence of metabolically active disease in the liver, reflecting a COMPLETE RESPONSE in this patient.
Conclusion
SIRT treatment with SIR-Spheres (Sirtex Medical Limited) is a Category 2A recommended treatment in the latest National Comprehensive Cancer Network® (NCCN®) Clinical Practice Guidelines for colon cancer and rectal cancer, and SIR-Spheres are the only fully FDA-approved microspheres for colorectal cancer that has metastasized to the liver.
For more information on SIRT and other minimally invasive procedures, visit our Y-90 informational page. Physician practices interested in learning more about Y-90 radioembolization should contact the Synergy Radiology interventional team at 713-897-5853.