Physician Spotlight – Phillip Parmet, M.D.
Summer 2019 — Congratulations to Memorial Herman Northeast (MHNE)-affiliated interventional radiologist Phillip Parmet, M.D., who was recently awarded the MHNE Partners in Caring (PIC) award. The award recognizes physicians and staff who help create a memorable experience and advance healthcare for patients. Founded in 1988, the Partners in Caring program has provided a source of creativity, support and enthusiasm for Memorial Hermann employees, patients, families and physician partners. Through grass roots efforts, PIC has instilled a culture of caring throughout the organization and makes Memorial Hermann a great place to work under its purpose to connect, inspire and engage.
Dr. Parmet was also a 2018 MHNE Physician of the Year Nominee for outstanding performance and for his service and dedication to patients. Congratulations to Dr. Parmet and our entire Synergy radiology team for making a difference in the lives of patients every day across the greater Houston area.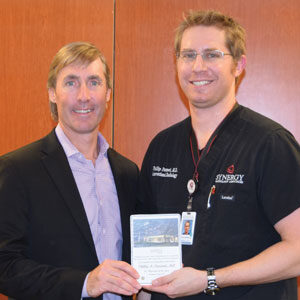 Josh Urban, SVP, CEO, Memorial Hermann Northeast Hospital and Memorial Hermann The Woodlands Medical Center (left), presenting the Memorial Herman Partners in Caring Experience Award to Synergy radiologist Phillip Parmet, M.D. PHOTO CREDIT: Photo Courtesy of Memorial Hermann
Josh Urban presents the Physician of the Year Nominee plaque to Dr. Parmet. PHOTO CREDIT: Photo Courtesy of Memorial Hermann